A Rich History at the Rich Forum
Stamford Studios' rich entertainment history spans much further than its 14 years as a film and television production facility. The historic Stamford Theater once stood at the corner of Tresser Blvd and Atlantic St. Built in 1915, the Stamford Theater began as a movie house before becoming the original location for the Stamford Center for the Arts, a non-profit cultural arts organization focused on entertaining and educating the people of Stamford, CT. For over 75 years, the Stamford Theater welcomed countless musicians, shows, and stars, providing the residents of the greater Stamford area a haven for the arts. In 1992, the Stamford Theater closed its doors but was replaced by the Rich Forum Theater, which continued to be one of the two campuses of the Stamford Center for the Arts. The Palace Theater serves as the other campus, located just down the street. Originally opening in 1927, the Palace Theater was originally a beautifully designed vaudeville house. Then, after it was restored in 1983, it became a live theatre and concert venue.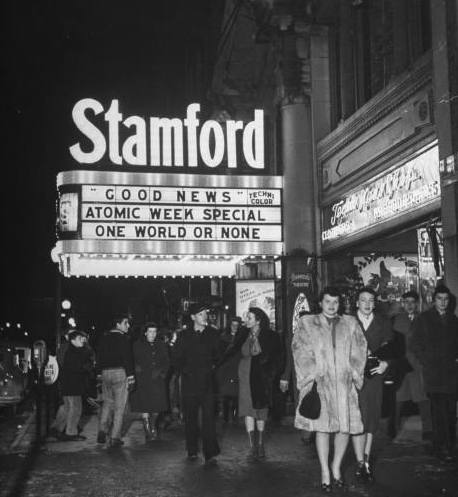 As part of the Stamford Center for the Arts, the Rich Forum Theater was known for its high entertainment quality in the performing arts sphere. Stamford Studios continues that tradition today, albeit through a different component of the entertainment industry. After the renovations in 2009, Stamford Studios became a premiere television and video production studio and ushered in a new wave of entertainment in Stamford housing The Jerry Springer Show, Maury, Trisha, and Crazy Talk. Today the studio serves as the home for shows such as The Steve Wilkos Show and Karamo, but also has housed countless pilots and other productions. With the recent opening of the Digital Factory around the corner on Bank St, the facility now offers production space for all forms of digital media. Stamford Studios is proud of its entertainment history and continues to be a staple of the arts for the Stamford community and millions more.
Then and Now
Office Hours M-F 9AM – 6PM
Nova Calise
Director of Facility Operations and Client Services
NBCUniversal's Stamford Studios
307 Atlantic St.
Stamford, CT 06901
Vinnie Fusco
Senior Vice President, Production and Operations
NBCUniversal's Stamford Studios
307 Atlantic St.
Stamford, CT 06901
Email
Phone Number